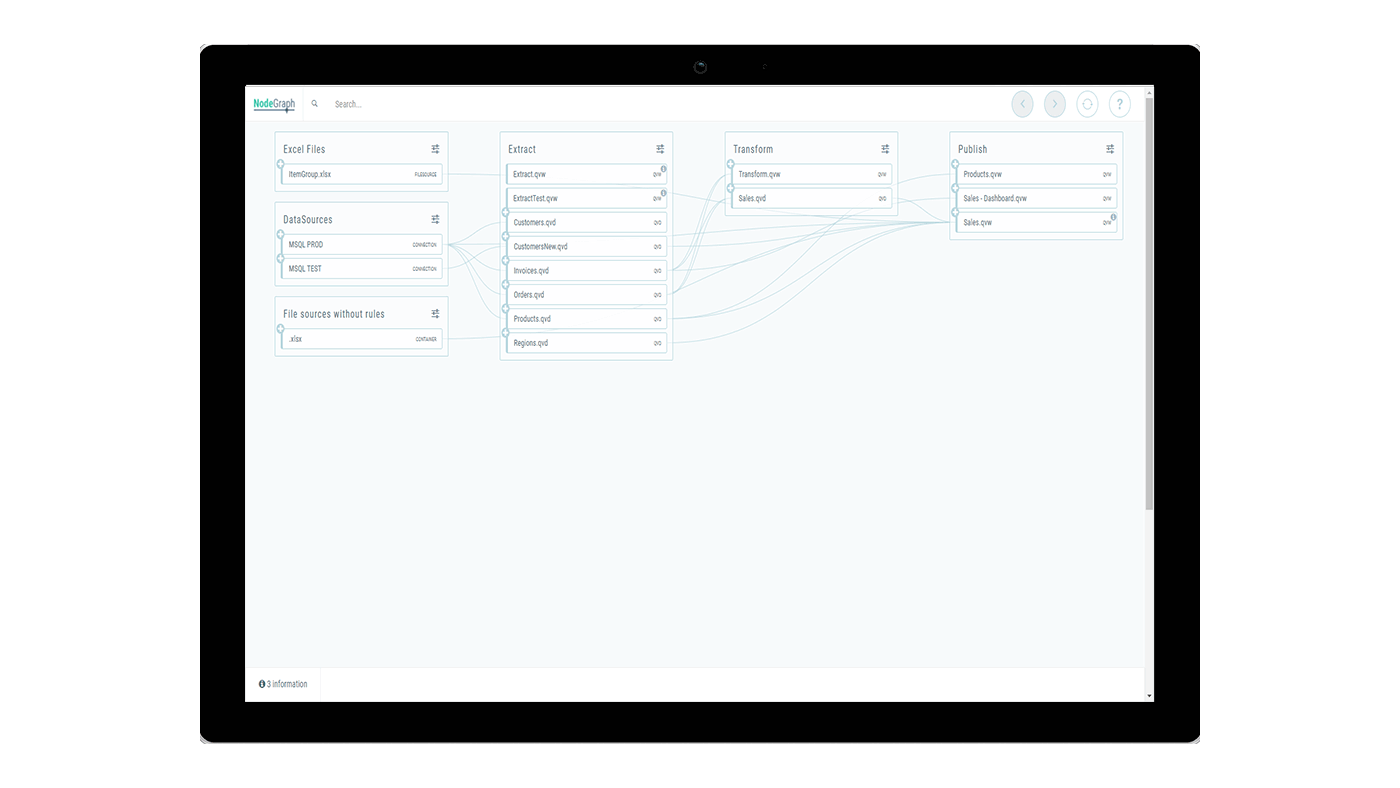 Trace data from app to source with NodeGraph
Before you make important decisions from your data, you need to know that you can trust it. The key to that trust comes from traceability, especially when you are gathering data from multiple sources at different times. Once you are able to track your data from source to your app, such as Qlik Sense or Microsoft Power BI, you can have complete confidence that it is data you can trust.
NodeGraph is a 100% automated Data Intelligence platform, and we are a NodeGraph partner. With Nodegraph you can access your full data landscape (data lineage) and governance. Through powerful data cataloguing it can help boost enterprise wide transparency and collaboration.
Because NodeGraph visualises your entire BI environment, it's simple to trace data from source to app, track where the information comes from and understand the underlying calculations. NodeGraph also makes it possible to automate and simplify documentation in your BI environment. With just one click, you can compile metadata, tables, fields and node comments in one document.
Have confidence in your data strategy and BI solution
NodeGraph will help you easily answer the following questions to give you complete confidence that your data strategy and Qlik solution is helping to achieve business objectives:
Where does our data come from?
NodeGraph makes it possible to track and trace data with a full end-to-end field level insight. So, you can be sure you're only using quality-secured data.
Can we trust our data and act upon facts?
With NodeGraph you can ensure that everyone is using the right and trusted data by easy access, impact analysis and dependency exploring.
How do we implement or migrate data or apps?                                   
NodeGraph is the only fully automated metadata extraction platform on the market. It will save you resources, time and money.
How is our organisation sharing data?       
NodeGraph can help everyone collaborate and understand your KPIs, data structure and more, with an easy-to-use data dictionary.
Are we in control of our data?
To make evidence-based decisions you need control over all your touchpoints. It will also mean you are in control of your capability to scale, so you act instead of simply react.
Support you can trust – we're a NodeGraph partner!
As a NodeGraph partner we are expertly placed to ensure the solution is doing everything you need to enhance your BI environment.  Book a demo with us and we'll show you how NodeGraph can help you make quicker, more confident decisions. We'll talk you through your pricing options and we can have you up and running with NodeGraph in hours, so give us a call today!