Using Machine Learning to drive business value with Tangent Works predictive analytics
Being able to predict the future could transform your business. It can help you to improve operational efficiency, accurately forecast pricing, deal with issues before they arise, and make better-informed decisions.
We are delighted to be a Tangent Works partner. Its Tangent Information Modeller (TIM) is an automatic predictive model building engine that enables you to create and update predictive models easily.
You don't have to be an AI expert to use TIM. It automates forecasting and anomaly detection by analysing time series data and generating accurate models based on the patterns it detects.

Benefit from direct forecasts
by using TIM within Qlik Sense
You can benefit from the capabilities of TIM without having to leave your familiar Qlik Sense environment, as it's simply enabled by a Server-Side Extension (SSE). The SSE integrates seamlessly with Qlik Sense's native way of working and allows you to get direct forecasts based on the data in your hypercube. Alternatively, you can use a REST API to integrate between Qlik and TIM.
There are so many ways that TIM could transform your operations. If you're a credit card provider, it can help you to detect anomalies and prevent fraud. If you're launching a new product, TIM can rebuild models as soon as the first set of sales data comes in, so you can accurately forecast and make decisions about production, stock and logistics.
It's simple to get started too. The Qlik Sense TIM Starter Pack includes your License Key TIM for Qlik Sense and lots of handy resources. Of course, we'll be on hand to guide the deployment.

Machine learning with
no need for data scientists
TIM automates the model building process, so no data scientists are required! You can rebuild models easily or let TIM's InstantML technology do it all for you.
You can deploy TIM in any way you choose for total flexibility and scalability:
Via a cloud service managed by Tangent Works
On your own Microsoft Azure subscription
On your own IT infrastructure
On various IoT edge devices
After deployment, TIM can be used through various interfaces:
TIM's API: Giving you full control over TIM's modelling parameters
TIM Studio: For a more streamlined graphical interface
TIM Clients or TIM on platforms: To implement directly on a specific tool or platform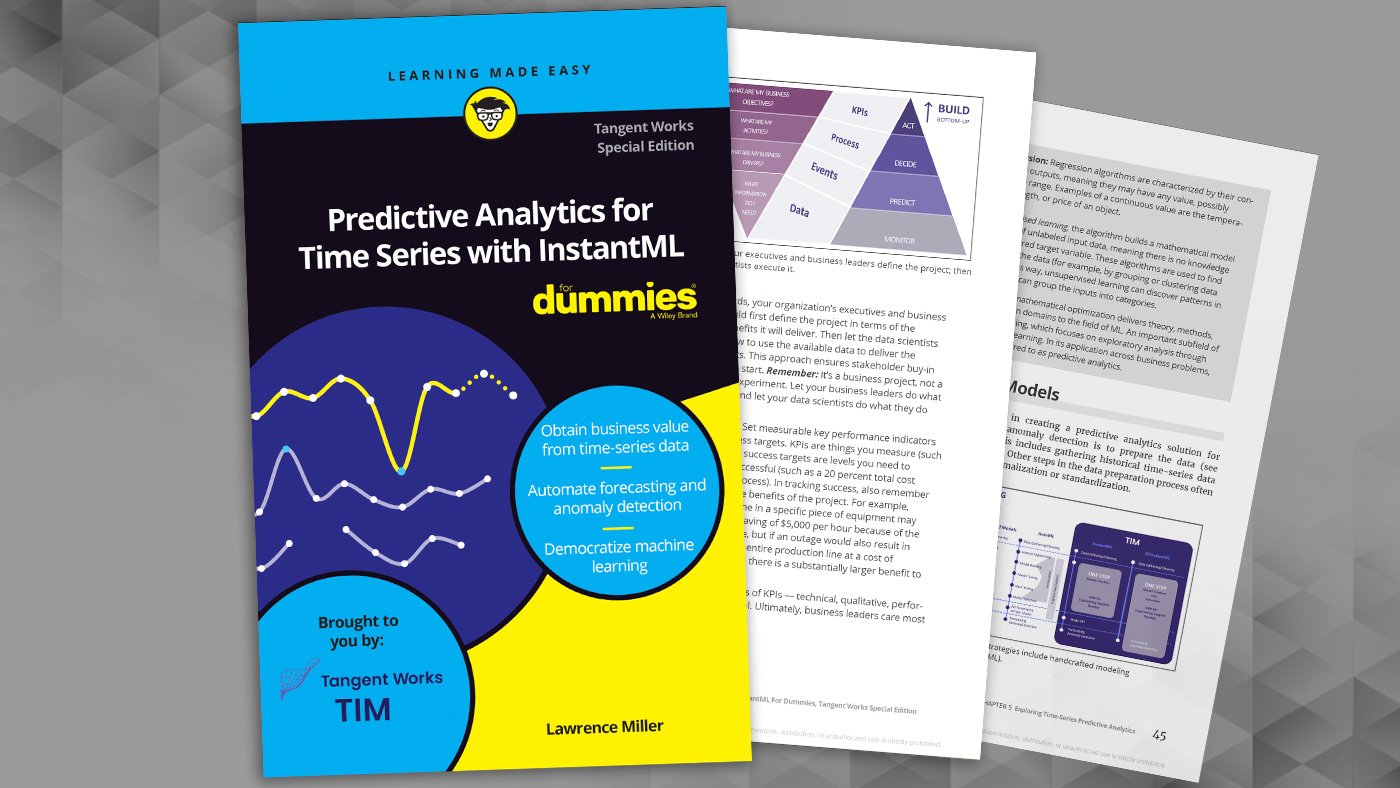 Want to know more about Machine Learning?
Get your FREE eBook
Sign-up to receive your FREE eBook "Predictive Analytics for Time Series data with InstantML – For Dummies".
Who should read this?
You don't need to be an expert in Machine Learning or Artificial Intelligence to get the key principles. Whether you're a business expert or data scientist you will learn how to get started with predictive models.
Power-up your predictive analytics
– talk to us today!
As a Tangent Works partner, we can advise you on how TIM can support your business and talk-through the various deployment options.