Microsoft Power BI
Microsoft BI is a leading solution in the business intelligence market, and if your company is already wedded to Microsoft, it has the advantage of being easy to integrate. It is renowned for its ease of use and low per-user, virtual server subscription pricing. It lets you visualise  your data and share insights across your organisation, or embed them in your app or website.
It's available as a SaaS option running in the Azure cloud or as an on-premises option in Power BI Report Server.  The Power BI Desktop is free to use and Power BI Pro is available for a low monthly price per user. That means you can cost-effectively offer everyone BI and analytics capabilities, which could transform the way you do business.
Power BI is a business analytics service that delivers insights to enable fast, informed decisions.
Transform data into stunning visuals and share them with colleagues on any device.
Visually explore and analyse data—on-premises and in the cloud—all in one view.
Collaborate on and share customized dashboards and interactive reports.
Scale across your organization with built-in governance and security.
Power BI – When and where you want it
There are many ways you can use Power BI, so you can access your data whenever you like, wherever you are.
Use Power BI Desktop to create and distribute BI content putting visual analytics at your fingertips. With this powerful authoring tool, you can create interactive data visualisations and reports. To monitor key data and share dashboards and reports with your team, use the Power BI web service by placing visuals exactly where you want them, analyse and explore your data, and share content by publishing to the Power BI web service.
To view and interact with your data on any Windows 10 device, get the Power BI Mobile app. Monitor your most important business data directly from your device. Get a quick overview with intuitive, at-a-glance visuals, or dive deep into your data and discover new insights with interactive dashboards and reports.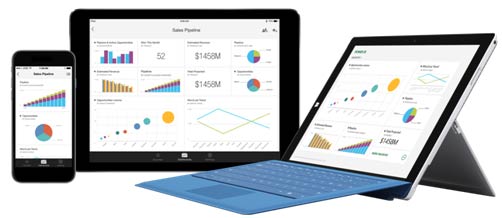 Microsoft Power Platform – better together
– Gain a competitive advantage by linking all of your data! –
The Microsoft Power Platform works together to meet your business challenges. Analyse data, build solutions, automate processes, and create virtual agents – all with one platform from Microsoft and your experts, Climber BI.
Made up of four core components, you can connect them together and with hundreds of other apps, to build end-to-end business solutions that are tailored specifically to your business.
Power BI
Enable everyone at every level of your organisation to make confident decisions using up-to-the-minute analytics.
Power Automate
Empower everyone in your business to build automated routines in Power Automate. Use low-code, drag-and-drop tools and hundreds of prebuilt connectors that automate repetitive, mundane tasks with ease.
Power Apps
Build professional-grade apps with low-code, quickly. Always looking for that perfect app to solve the problem in your business? Use Power Apps to create your own modular, bespoke solution that solves your specific business challenges.
Power Virtual Assistants
Create and manage powerful chatbots – without the need for code or AI expertise – with an easy-to-use graphical interface.

Microsoft Power BI Training
If you're keen to get started with Microsoft Power BI or want to bring new employees up to speed with its capabilities, talk to us about our Power BI training. We can deliver a bespoke training package that suits your business needs, whether that's face-to-face at your office or hosted online.

TALK TO US AND WE'LL HELP YOU WITH YOUR POWER BI PROJECT!
However you decide to move forward with Microsoft Power BI, you'll need to manage your stakeholders to get the data you need, know it is cleansed and in the right shape, and have a Project Manager to ensure that the all-important budgets and timescales stay on track. That's where we can help – by providing consultancy, development and project management. Get in touch to see how we can help your Power BI deployment.