CHECK OUT OUR NEW P&L EXTENSION for QLIK SENSE
The P&L statement is the go-to report for getting a high-level view of a business's finances. Think of it as a health report card for your business. And one in real-time, with a more professional, attractive, key-info-at-a-glance look & feel, will make your CFO even happier. We are stoked to be launching the Climber P&L Extension, today referred to as the Vizlib Finance Report, for Qlik Sense, an easy-to-use, flexible solution that will make your P&L reporting much faster and more informative. The extension adds the P&L to your BI solution, making it easier to analyze your P&L, and drill-down to details, while connecting it to your overall operations. The base for the extension is a regular pivot table, which also accommodates balance sheets and other formatted tables. Check out the tutorial above to see how it works! If you are interested in trying the extension or adding it to your Qlik Sense Solution just contact us to learn more.
CHANGE DIMENSIONS,
DRILL-DOWN AND EXPORT
Our new P&L extension is based on a regular pivot table, allowing you to use either a top dimension or group the expressions together. You can also use drill-down dimensions and make selections by simply clicking on a row. Likewise, the extension allows you to: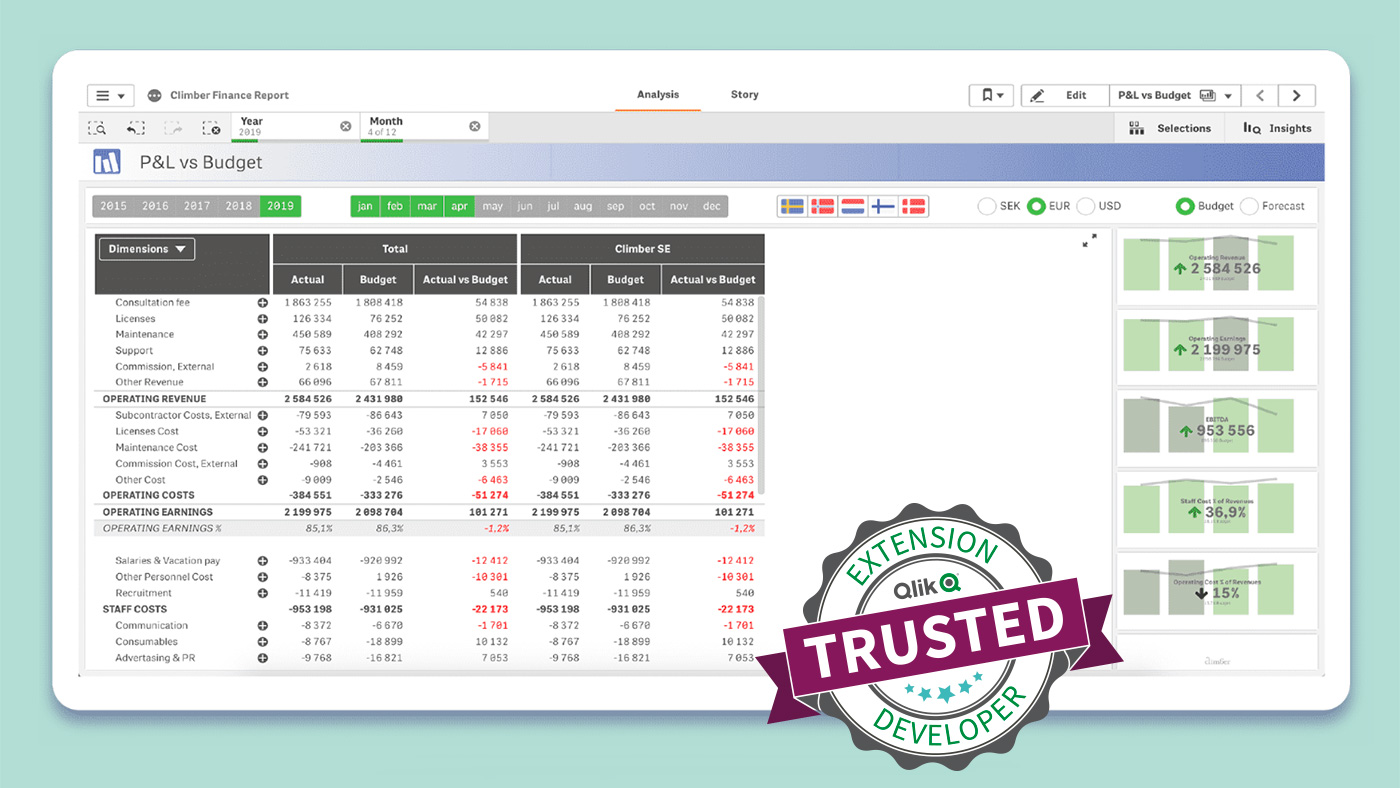 Use alternative dimensions for both the first, the sub-row and the top dimension. You can also use different P&L setups and switch between time periods.
Include KPI-rows to give the user an easy indication of, for example, percentage of operating income.
Right-click to export the P&L to Excel, while keeping the same formatting.
Add comments and create a reporting hierarchy using the Climber Comments Extension, which the extension stores in a database, making possible to see who created each comment and when. For example, business units can comment on their numbers, country managers can add their input and everything is combined at a corporate level.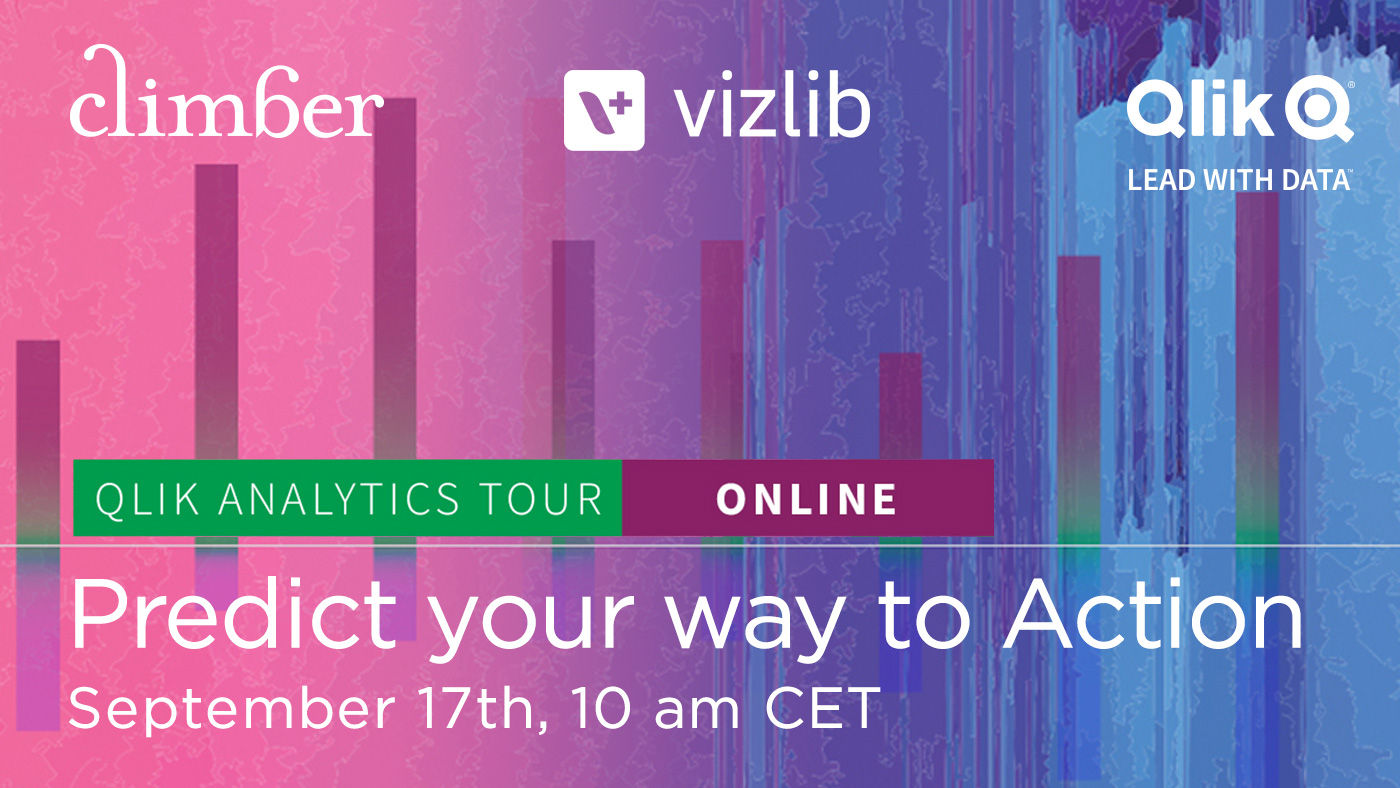 Enabling Predictive Analytics to the people
Vizlib shortening time form data to action
Join us for an online masterclass on how to accelerate actions through Augmented Data Analytics at the Qlik Analytics Tour 2020 on September 17th, 10 am CET!
Our friends at Vizlib will showcase how any user can leverage advanced analytics on the fly to predict the best action to follow up, with the help of smart visualisations, clustering and collaboration in Qlik Sense. The event is free, and spots are limited.

Want a demo of the P&L extension for Qlik Sense? Contact us!
In 2019, Vizlib acquired all Climber Extensions and continue to expand the value-added capabilities as part of their wider product offering for Qlik Sense. Please get in touch if you want a demo of the P&L or want more information about any of our Qlik Sense extensions.
BUY THE P&L EXTENSION FROM VIZLIB VIA CLIMBER
Vizlib builds powerful value-adding extension products for Qlik Sense. Climber is reselling Vizlib in the UK, Finland, and the Netherlands and is the main reseller Sweden. Together, we offer a complete range of functions and visualisations that fulfil your expectations and the needs of your company. Contact us to learn more, book a demo or subscribe!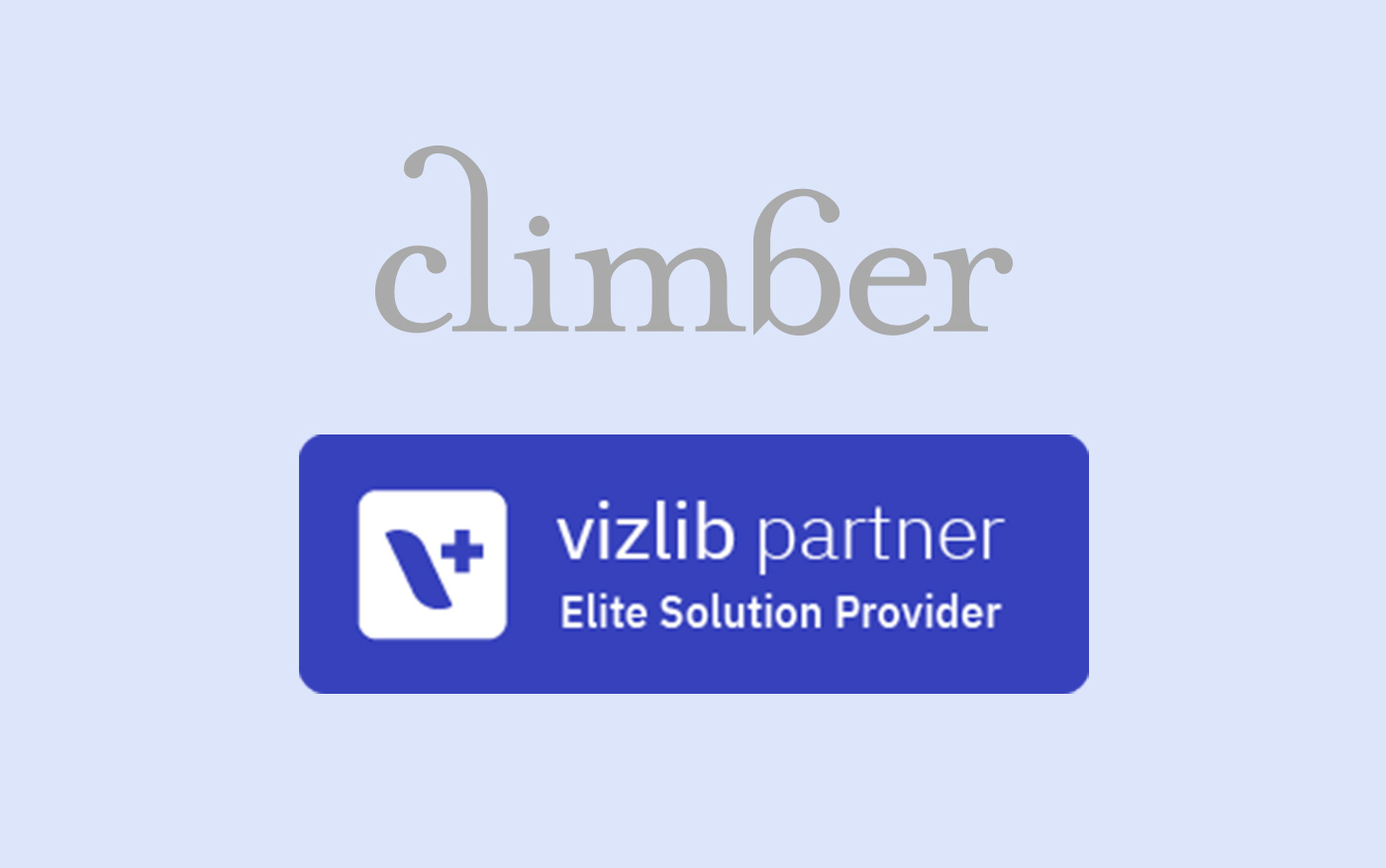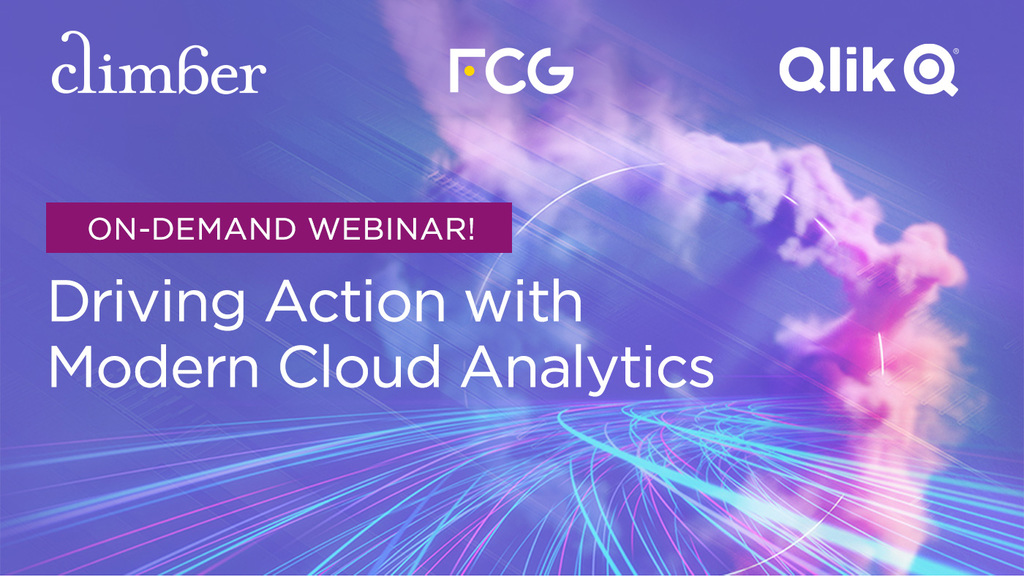 Event, On-Demand Webinar
Join us to navigate a path to cloud for your analytics. We'll give you a heads up on the latest features. Hear about our customer FCG  and how they've started the transition leveraging Qlik Sense Saas for faster insights. See how you too can make the move, at your own pace, learn how you can enjoy the experience of Qlik as a Service with your on prem solution and in parallel get the benefits of Qlik Sense SaaS functionality – as it's not a one fits all experience but rather a very individual one. 
>> Sign up here!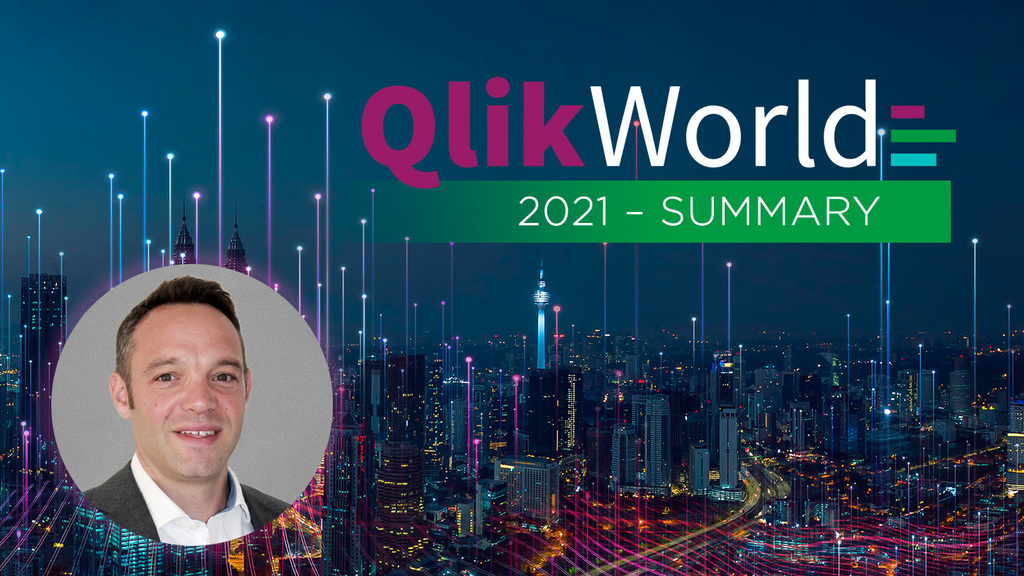 Blog
Qlik host many events throughout the year, but QlikWorld is undoubtedly the biggest. For the second year running it was held virtually with a great line-up that showcased new product features and 100 break-out sessions. If you didn't manage to check-out the event, here's our key take-aways from a packed agenda.
>> Read the key take-aways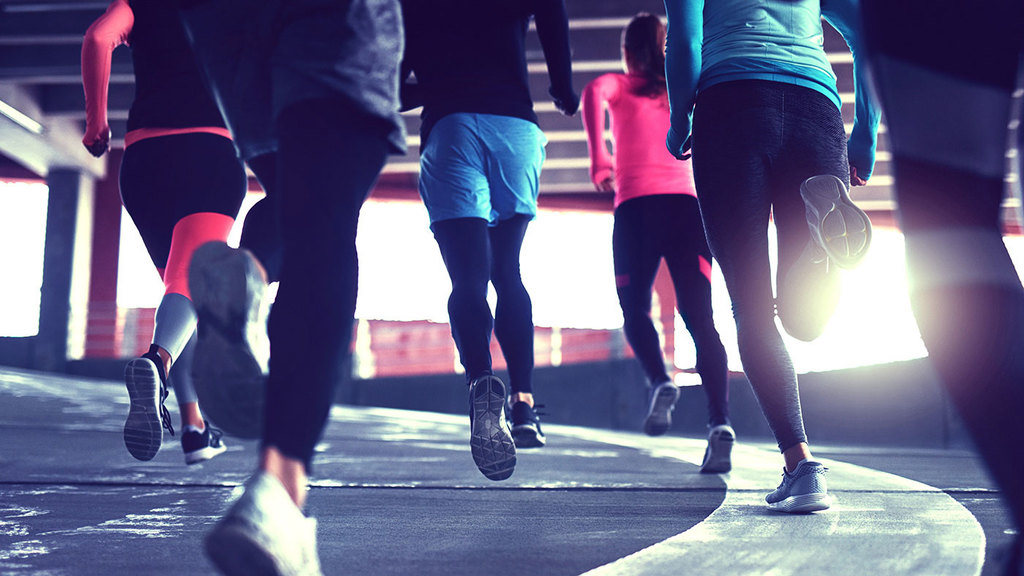 Customer Case
We've helped ASICS to efficiently structure valuable sales and supply chain data by optimising clear Qlik Sense dashboards. Thanks to this solution, employees don't have to waste hours finding the data they are looking for.
>> Read more!