Microsoft Power BI – How can Climber UK's consulting services help you?
 Whether you're starting out with Microsoft Power BI, looking to add to your existing Qlik investment, or you want to optimise your existing Power BI solution, we can help you to get the most value. We'll work with you to understand your goals and expected outcomes, and quickly move your team and business from data to insights.
Our team can help you with:
Data Integration
We're skilled at integrating with existing analytics data sources, plus your finance & ERP, CRM, and HR systems.
Strategic Planning
It's important that you have a plan for how to use your data, so you can make the most of your analytics solutions and platforms. Our experts can help. Find out more about how Climber UK can help with your Data Strategy.
Fast Delivery
Often there's a great deal of work to be done but not enough time. Our experts can relieve some of the burden on your business intelligence delivery team (or IT team if it's an IT managed function) and begin to deliver insights quickly to your business.
Specialist Support
We're experts in business analytics, Power BI, and Qlik too. We can provide your team with additional services such as training, delivery, integration, customisation and of course support.
If you're looking to migrate to Power BI, or simply looking to supplement your existing BI or data visualisation tool with Power BI, we can help. Our experts will work with you and help you to get started quickly so that you can immediately get value from your investment.
Working with you, we'll create fresh tailored Power BI apps to fit the way you work and the goals of your business.
Migrating to Power BI doesn't mean you need to lose your investment in your existing data warehouse, BI implementation, or tools. By sweating your existing assets, you can place Power BI strategically as your entire, or focused, visualisation tool, speeding up your Power BI implementation, and leveraging the investment you've already made.
Our journey together does not stop after we've migrated you to Power BI. Make use of our consultancy, training and support experts to keep your investment in Power BI up-to-date and current.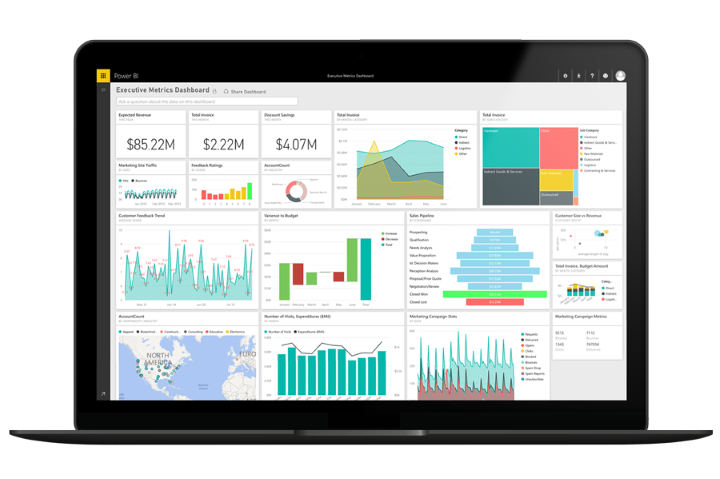 Power BI 

Advice and Health

C

heck

Our experts will approach your health check, not from a technical perspective, but from a consultative one. We'll work with you assess how you currently use the platform and identify areas that can be improved. Our aim is to make sure our new and existing clients make the most of their investment in Power BI.  
Power BI is improving all of the time, and we'll make sure your solution meets best practice standards. If we can make changes to improve or optimise your existing dashboards or reports, we'll recommend them to you.  
In today's business environment, it's very important that your system is secure and compliant. We'll check your security and permissions to ensure that those who should have access, do; and those who shouldn't access specific data are prevented from doing so.  
Finally, it's important you're making the most of your Power BI licenses, and we'll work with your existing team or Microsoft 365 software provider to make sure you're using them effectively, keeping your costs down and productivity up.

Ready to get started with Power BI? Contact us!
Request a FREE Advisory Review meeting with our experts to learn more.